Arria is sometimes able to write. When she does her work often explores the intersections between chronic illness & disability, ecology, culture and spiritual understanding. She shares a small house by a lake, near Kingston, Ontario, with her mother and their ridiculously adorable dog. (Her mother is pretty cute too.)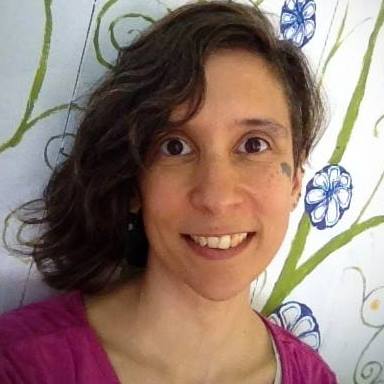 Drawing heavily on speculative and surrealist elements, Arria focuses on creative fiction, primarily in short story form. She's also been known to write a little poetry and non-fiction. When she can, she works on nurturing a couple of story-babies into fully fledged novels.
Arria is passionate about writing women-centred worlds, populated by feminist, queer-identified, differently-abled characters, living with divergent, often marginalized, conditions.
The landlord of my writing studio (Go Lie Down Now Inc.) will only lease to me if I agree to share work space with two dubious companions who go by the names of Inconsistency and Unpredictability. They have been known to lock the door and eat the keys, hide the charger cables, steal my pens and sneak a potion into my tea that brings a haze to my mind and a terrible sinking fatigue to my body. We have formed a steadfast, if sometimes uneasy, alliance.

– Arria Deepwater
Contact:
Coming Soon: opt in for mailing list, so you can be notified of any up-coming publications.